In Memory
Pam Sain (Dailey)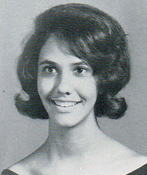 Pamela Azalee Sain Dailey, beloved wife, mother, daughter, and sister, departed this life on July 25, 1998, after a long and courageous battle with cancer. She was born in Richlands, VA, on October 23, 1947. Pam was a graduate of Peace College and Meredith College.
She was preceded in death by a son, Jeffrey Lawrence Morton.
Pam is survived by her husband, Bob Dailey of Tolland, CT; son, Scott Gregory Morton of Las Vegas, NV; mother, Azalee Baker Sain of Raleigh; father, S.T. Sain of Orlando, FL; sister Victoria Sain Teachey (Garry); nephew, Joshua Andrew Teachey of Raleigh; and many loving aunts, uncles, cousins, and friends.
In her job as a registered nurse, she lovingly ministered to many people and worked with Blue Cross/Blue Shield.
Donations in Pam's memory may be made to Longview United Methodist Church, the Raleigh Rescue Mission, or the Salvation Army.